Pool Finishes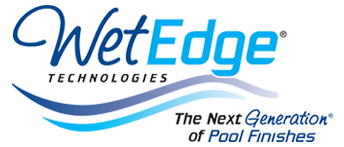 LEARN MORE ABOUT WET EDGE
Pool Finishes
LEARN MORE ABOUT WET EDGE
Signature Matrix
Signature Matrix
Signature Matrix™ is a blend of the Pearl Matrix and Satin Matrix size pebble with the same color offerings.

For many homeowners the appeal of Pearl Matrix is that it shows more detail from the water's edge. As you look down into the pool you're able to really appreciate the color and beauty of each stone. On the other hand, many people prefer the feel of the smaller pebble of Satin Matrix.

The Signature Matrix gives the best of both sizes. It looks great and it feels exceptionally smooth.
Serenity Stone
At almost twice the size of Pearl Matrix, the pebble size in Serenity Stone makes it entirely unique. Mixing in brilliant glass bead, Serenity Stone is truly special with a stunning look and ultra-smooth texture.


Prism Matrix
When you want to add a 'wow' factor to your swimming pool, call us for this amazing Wet Edge pool finish. It brings the beauty of pearl and satin that makes it a true eye-candy.

In addition to pebbles, this mix has smooth round glass that enhances the dazzling effect of your pool. Once installed, you needn't worry about frequent remodeling or renovation of your pool.
Primera Stone
If you want the best of plaster and aggregate, go for Primera Stone finish. It uses special stones that are buffed for creating a smooth and even surface.

The final look resembles elegant granite. And, not to forget the quality and longevity that this finish adds to your pool.
LEARN MORE ABOUT WET EDGE
Pool Finishes
LEARN MORE ABOUT WET EDGE
Satin Matrix
With smaller pebble size, Satin Matrix is an exposed aggregate finish for swimming pools. It is a textured finish made with smooth round stones for a polished and seamless texture.

At BND Plastering, we specialize in the application of this Wet Edge pool finish for both residential and commercial properties in Nevada.
Pearl Matrix
Like Satin Matrix, it also uses naturally colored stones, though in a slightly larger size. The vibrant hues of stones add a lot of appeal to the pool surface. It comes in many color combinations.

So, you can choose the best shades that suit your preferences. Enjoy the eclectic color and beauty of each stone once our experts flawlessly apply this surface finish to your swimming pool.
PARTNERSHIPS & ASSOCIATIONS